Harp on Wight 2017
Savourna performed at the Harp on Wight Festival on Sunday the 22nd of October 2017 from 7.30pm alongside the superb Steve Kettley. Steve is a musician, composer and occasional actor, who plays tenor and soprano saxophones, flute, jaw harp and percussion. He leads several bands playing his own music, and is well known as a founder member of the international touring and recording group Salsa Celtica. Recently, Orange Claw Hammer, a quartet dedicated to interpreting the music of avant-rock legend Captain Beefheart, has been a major concern. For the last few years Steve has been enjoying a productive collaboration with former national poet (Makar) of Scotland, Liz Lochhead.
Visit the Harp on Wight Festival website for more information!
---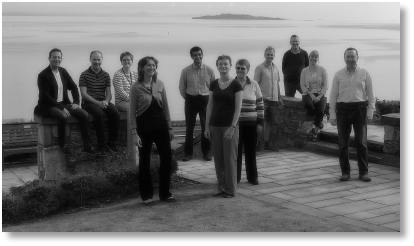 LIGHTING THE BORDERS – Neidpath Castle
"Lighting the Borders" Performances by Savourna Stevenson, the Scottish Vocal Ensemble and Matt Seattle.
The evening began with Border Piper, Matt Seattle who piped the audience into the venue from the rooftop of Neidpath Castle, followed by site specific performances from the Scottish Vocal Ensemble and Savourna Stevenson. A varied programme explored the unique landscape, literature and culture of the Borders, performed in a dramatic setting of an ancient tower, which dominates a bend in the River Tweed. The programme included 'The Dream' by Savourna Stevenson inspired by the writing of John Buchan and works that delve into the myth and legend passed down in famous Border Ballads.
Performance at Neidpath Castle by Scottish Vocal Ensemble, Savourna Stevenson & Matt Seattle
19:00, 1st September, 2017 at Neidpath Castle, Peebles, EH45 8NW
---
Savourna Stevenson and Miles Norris
Savourna has been collaborating with guitarist and bassist Miles Norris in concerts across Scotland, Ireland and Europe. Together, they have performed in venues including Merchiston Castle School as part of the Edinburgh International Harp Festival and at Broughton Village Hall for a local charity event. See the previous projects page of this website for more information on the duo's past work.
To read what the press had to say about the duo, visit the performing reviews section of this website.
---
Children's Classic Concert's Tartan Tales
On the 27th and 28th of May 2017, Savourna joined Children's Classic Concert's Essential Orchestra to perform a programme of Scottish music devised and presented by Owen Gunnell and Oliver Cox. Performances took place at Saint John's Kirk, Perth and the Macrobert Arts Centre, Stirling and included a new arrangement of Stevenson's Misterstourworm and the Kelpie's Gift for smaller orchestra by Oliver Cox.
Tartan Tales programme: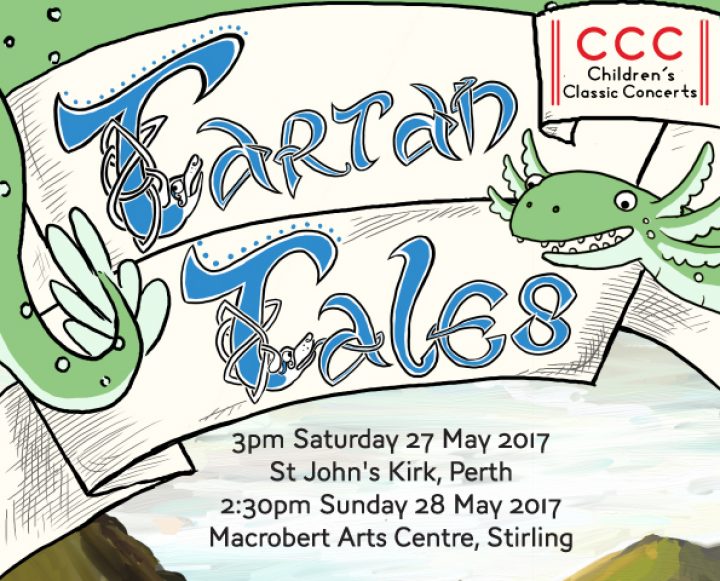 The Campbells Are Coming – Leroy Anderson
Hebrides Overture (Fingal's Cave) – Mendelssohn
Misterstourworm and the Kelpie's Gift – Savourna Stevenson (arr. O. Cox)
The Loch Ness Monster – Tom Cunningham
The Can Can – Offenbach
Farewell to Stromness – Peter Maxwell Davies
Tam O'Shanter Overture – Malcolm Arnold (arr. P. Campbell)
Tartan Medley – Arr. Paul Campbell
---
The Dutch Harp Festival 2016
Savourna performed at the Dutch Harp Festival on the 15th and 16th of October 2016. On the 15th, Savourna was joined by her duo partner guitarist and bassist Miles Norris and on the 16th she collaborated in concert with the internationally renowned harpist Catrin Finch. A big thank you to the Dutch Harp Festival for their invite!
---
Savourna and Miles perform with Traquair Choir
Savourna and Miles also performed with Traquair Community Choir at Peebles Eastgate Theater on the 27th of August 2016. The acclaimed duo headlined this special concert of music from around the world. From African inspired music through South American flavoured tunes, via an Irish waltz to Medieval England and beyond. They were supported by Traquair Community Choir under the musical direction of Julie Leavett. The Borders newest community choir opened the evening with a programme of traditional and contemporary folk songs featuring two original songs by Savourna which she accompanied on pedal harp.
---
The Twenty-Third South German Harp Festival
Savourna had a wonderful time at the Twenty-Third South German Harp Festival in the beautiful German Alps between the 24th and 26th of March 2016. She joined other artists, including Uschi Laar and her trio as well as Park Stickney, in a number of seminars and concerts in Miesbach and Labenbachof near Ruhpolding.
---
St James The Great Church, Stonehaven
In February 2016, Savourna Stevenson and Miles Norris performed at St James The Great Chruch in Stonehaven, Scotland, where Savourna also joined local harpists in workshops.
---
Click Clack Club
As part of saxophonist Steve Kettley's monthly Click Clack Club, Savourna and guitarist and bassist Miles Norris joined Trevor Conway and Anything in Trousers for an evening of blues, jazz, funk, improvisation and more at Henry's Cellar Bar, Edinburgh on the 24th of November 2015.
---
Fiddlesticks and String Along Workshops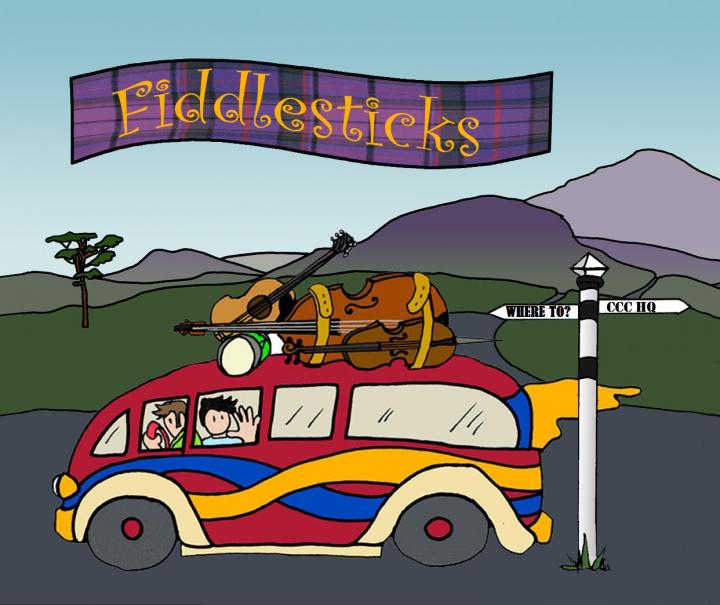 Throughout 2015, Savourna joined percussionists Owen and Olly and the Fejes Quartet in Children's Classic Concerts' concert series, Fiddlesticks. There was much madcap musical mayhem to be had, featuring violins and vibraphones, clarsachs and cowbells and basses of both the drum and string variety!
The performances offered a mix of jolly jazz, calming classical and Scottish traditional music, plus lots of fun and audience participation. This series of concerts fused traditional and contemporary styles for music fans of all ages, and performances took place all across Scotland in the Macrobert Arts Centre, Marryat Hall and Elgin Town Hall.
And the fun continued with String Along workshops where young participants learned all about the clarsach with Savourna and CCC presenter Olly. Here, the children were able to find out all about the stringed instruments and even played the clarsach themselves!
---
SAVOURNA STEVENSON with THE EDINBURGH QUARTET
Tuesday 9th April 2013 at 7.30pm
Memorial Hall, Merchiston Castle School, Edinburgh
Savourna presented a varied and exciting retrospective spanning her three decades of virtuosic and innovative work with the harp, from traditional favourites recorded on her re-released 1985 Tickled Pink album through blue grass, jazz and world music styles on the small harp and progressing on to her recent work with the pedal harp. Special guests, including the Edinburgh Quartet, joined Savourna to perform her Harp Quintet acclaimed for its use in American TV series 'Sex and the City' and 'Ugly Betty'.
---
Savourna performed throughout 2011 and 2012 with NYCoS, the National Youth Choirs of Scotland…
Local NYCoS choirs joined Savourna as her concert guests at venues from Dumfries to Stornoway and performed her songs specially commissioned by NYCoS. Savourna performed on both the small harp and pedal harp with a programme including her own compositions alongside virtuosic works by Debussy, Hasslemans and Ravel.
If you would like to hear Savourna's songs specially written for NYCoS, they have also been included on the Misterstourworm CD ( see shop), performed by the Orchestra of Scottish Opera with the Edinburgh NYCoS choir and the RSNO Junior Chorus.
After the NYCoS 15th Anniversary concert with the RSNO and a 600 strong children's choir, the Herald ( 10th May 2011 ) wrote:
"Savourna Stevenson's 'Waiting for the Silver-sailed Moon' for the upper voices was again confirmed as the loveliest tune to have been created by the choral organisation's commissioning work".
---
Martinu Quartet
In 2012 Savourna collaborated with the wonderful Martinů Quartet from Prague on a programme including her own Harp Quintet.