The Herald
Royal Concert Hall, Glasgow • Michael Tumelty ****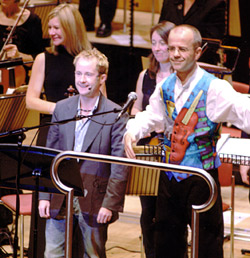 Savourna Stevenson should be feeling extremely pleased with herself as she emerges from a weekend that doubtless was tinged with nervousness. By any criteria, her first full exercise for symphony orchestra, Misterstourworm, a tale of myth and legend, of magic and monsters, woven around the creation of Scottish islands from the west coast to Orkney, can only be judged a resounding success.
Though in the early stages of composition there was the explicit precedent and inspiration of Prokofiev's Peter and the Wolf, by the time of completion of the project, a two-year venture funded by a Creative Scotland award, very little of that original impetus remained, barring a close reference in the theme associated with Coran, the hero of the tale, woven with characteristic elan by playwright Stuart Paterson. Indeed, in so far as there is a didactic element to Peter and the Wolf, Stevenson's often-beautiful and exciting composition is in a different sphere to Prokofiev's yarn, concentrating more, as it does, on colour and atmosphere than on characterisation through individual instruments.
The orchestral imagery that permeated her music was impressionistic and, in at least one instance, where tumbling woodwind scales magically represented the water streaming off the back of a kelpie, ravishing and exquisite.
True, Misterstourworm, conducted by Christopher Bell as the centrepiece of a rather overlong children's concert, and played with gusto by the RSNO, sounded as though it could have used another rehearsal for familiarisation, and it cried out for visual imagery to clarify the progress of the story, narrated with increasing relish by Billy Boyd; but it is a splendid addition to the repertoire which, one hopes, will circulate and return.